The following companies will be presenting at the Pan European Investor Conference. The table can be organized by sector, country, etc.
Please indicate your interest in meeting with them virtually on the registration page.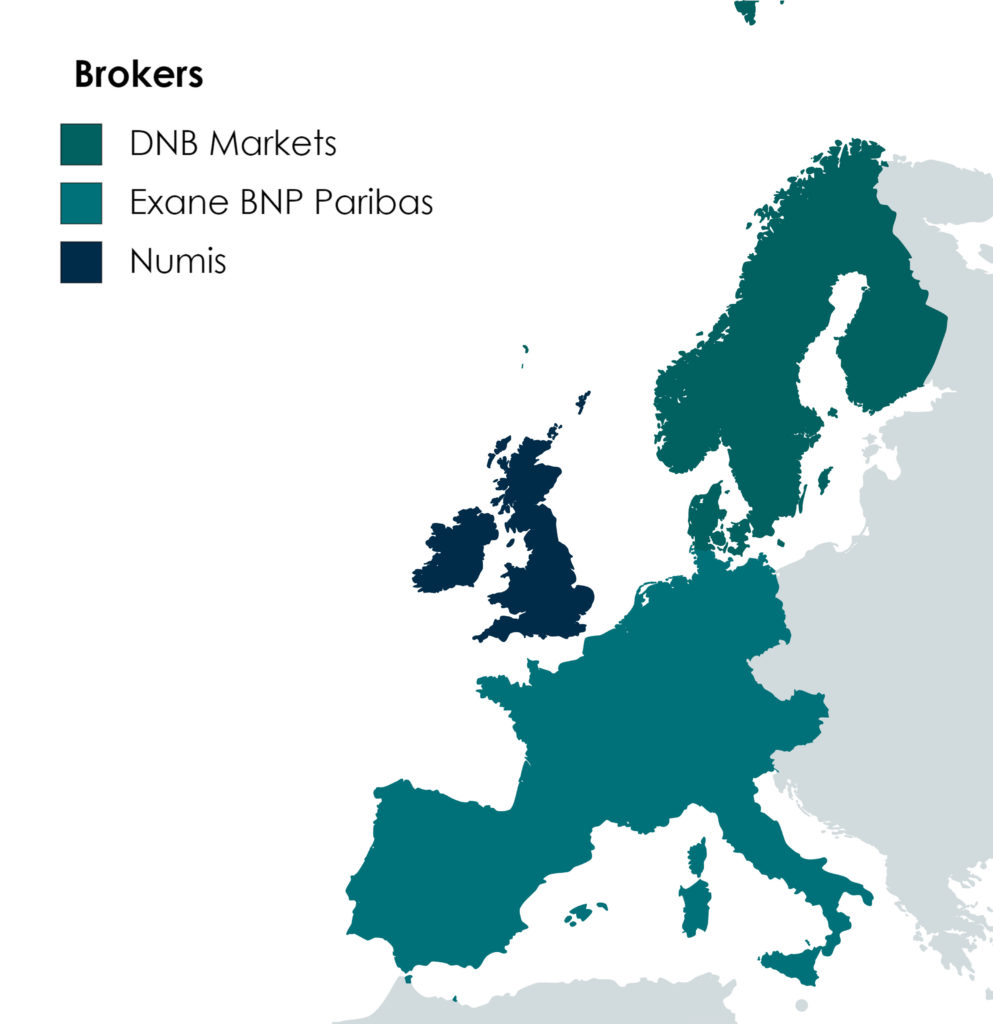 Note: This is the 2021 list of participating companies for reference purposes. Shortly after the Summer it will be updated.
Company
Broker
Country
Sector
Market cap


(USD Billion)

Delegates
Nov 29
Nov 30
Dec 1
Dec 2
Ascential Group

Numis
United Kingdom

Media

2.376
Duncan Painter (CEO),
Mandy Gradden (CFO)
No
No
Yes
No
AVEVA
Numis
United Kingdom

Technology

14.987
Matt Springett (IR),
Kira Popper (IR)
No
No
Yes
No
Burford Capital
Numis
UK/ US

Diversified Financials

2.4

Chris Bogart (CEO), Ken Brause (CFO), Jim Ballan (IR)

No
Yes
No
Yes
Fever-Tree
Numis
United Kingdom

Fast Moving Consumer Goods

3.7
Andy Branchflower (CFO), Ann Hyams (IR)

No
Yes
No
No
Next
Numis
United Kingdom

Retail

14.9

Amanda James (Finance Director)

No
Yes
No
No
St. James's Place

Numis
United Kingdom
Diversified Financials

11.7
Craig Gentle (CFO),
Hugh Taylor (Director, IR)
No
No
Yes
No
B&M European Value Retail
Numis
United Kingdom
Retail
8.1
Alex Russo (CFO), Jonny Armstrong (IR)
No
Yes
Yes
No
Electrocomponents
Numis
United Kingdom
Support Services
7.0
Lucy Sharma (IR)
No
No
No
Yes
Halma
Numis
United Kingdom
Capital Goods
15.8
Constance Baroudel (Sector Chief Executive for Environmental & Analysis),
Charles King (IR)
No
Yes
No
No
Melrose


Numis
United Kingdom
Capital Goods
10.8
Chris Dyett (IR)
(tbc)
(tbc)
(tbc)
(tbc)
Spirax-Sarco
Numis
United Kingdom
Capital Goods
16.1
Shaun Laubscher (IR)
No
No
Yes
No
BNP Paribas

Exane BNP Paribas

France

Banks

38.0

Lars Machenil (CFO)
No
No
Yes
No
Givaudan

Exane BNP Paribas

Switzerland

Food & HPC/ Ingredients
43.0
Gilles Andrier (CEO), Pierre Benaich (HIR)
No
Yes
No
No
Remy Cointreau

Exane BNP Paribas
France
Beverages
10.1

Célia D'Everlange (HIR)

No
No
No
Yes
Anheuser-Busch InBev
Exane BNP Paribas
Belgium
Beverages
110.2
Shaun Fullalove (HIR)
Yes
No
No
No
Cellnex
Exane BNP Paribas
Spain
Infrastructure

43.2

Juan Jose Gaitan Manoso (HIR) +
No
Yes
No
No
Iberdrola
Exane BNP Paribas
Spain
Utilities
70.9
José Sainz Armada (CFO),
Isabel Sánchez (IR),
Sol Cabeza (IR),
Diego Moró (IR)
No
Yes
Yes
No
Energias de Portugal (EDP)
Exane BNP Paribas
Portugal
Utilities
22.4
Rui Teixeira (CFO),
Miguel Viana (Head IR EDPSA),
André Fernandes (Head IR EDPR)

No
Yes
No
No
Prada
Exane BNP Paribas
Italy
Luxury Goods
15.9

Alberto Carlucci (HIR)

No
Yes
No
No
Saint Gobain
Exane BNP Paribas
France
Building materials
37.0

Sreedhar Natarajan (CFO)
Vivien Dardel (IR)
Floriana Michalowska (IR)
Yes
Yes
No
No
Hermes
Exane BNP Paribas
France
Luxury Goods
160.9
Carole Dupont-Pietri (HIR)

No
No
No
Yes
Vinci
Exane BNP Paribas
France
Infrastructure
59.7

CFO/HIR

Yes
No
No
No
BASF
Exane BNP Paribas
Germany
Chemicals
66.9
Alex Sokolowkski (Senior IR North America)

No
No
No
Yes
Deutsche Post DHL Group
Exane BNP Paribas
Germany
Transport & Logistics
74.7
Robert Schneider (Senior VP Investor Relation)
No
No
Yes
No
La Francaise des Jeux
Exane BNP Paribas
France
Consumer
9.7

Stephane Pallez (CEO),
Marc Willaume (HIR),
Pascal Chaffard (Group SVP - CFO)
No
Yes
No
No
HeidelbergCement
Exane BNP Paribas
Germany
Building Materials

14.7

Ozan Kacar (HIR)

Yes
No
No
No
Coloplast
DNB Markets

Denmark

Health Care

33.7
Ellen Bjugert (VP IR), Aleksandra Dimovska (Senior Manager IR)
No
Yes
No
No
Equinor
DNB Markets

Norway

Energy

84.8
Chris Golden (SVP Country Manager US), Nate Mital (IR)
No
Yes
No
No
Handelsbanken
DNB Markets

Sweden

Financials

22,2
Carl Cederschiöld (CFO),
Peter Grabe (Acting Head of IR)
No
No
Yes
No
Novo Nordisk
DNB Markets

Denmark

Health Care
242,6
Mark Joseph Root (IR)
No
No
No
Yes
Novozymes
DNB Markets

Denmark

Materials

19.4
Carl Ahlgren (Investor Relations Officer)
No
No
No
Yes

Volvo
DNB Markets

Sweden

Industrials

46.0
Jan Ytterberg (CFO), Johan Bartler (IR Director)
No
No
Yes
Yes
Yara
DNB Markets
Norway
Materials

13.4
Silje Ingeberg Nygaard (IR),
Maria Gabrielsen (IR)
No
No
Yes
Yes
Carlsberg
DNB Markets
Denmark
Consumer Staples
24.2
Peter Kondrup (VP IR)
No
Yes
Yes
No
Lundbeck
DNB Markets
Denmark
Health Care
5.4
Palle Holm Olesen (Vice President, IR)

No
Yes
No
No
Sampo
DNB Markets
Finland
Financials
28.0
Torbjorn Magnusson (CEO), Knut Arne Alsaker (CFO)
No
Yes
Yes
No
Tele2
DNB Markets
Sweden
Telecommunication Services

10.1
Marcus Lindberg (Head of IR), Patrik Johannesson (IR Associate)
Yes
No
Yes
No
SEB

DNB Markets
Sweden

Financials

31.1
Hans Beyer (CSO)
No
Yes
No
No
Auction Technology Group


Numis
United Kingdom
Media

2.125

John-Paul Savant (CEO),
Tom Hargreaves (CFO)
No
No
No
Yes
Auto Trader


Numis
United Kingdom
Media

7.608

Nathan Coe (CEO),
Jamie Warner (CFO)
No
No
No
Yes
Future

Numis
United Kingdom
Media

6.004

Zillah Byng-Thorne (CEO),
Penny Ladkin-Brand (CFO),
Marion Le Bot (IR)
No
Yes
No
No
Rightmove

Numis
United Kingdom
Media

7.953

Alison Dolan (CFO)
No
No
Yes
Yes
S4 Capital


Numis
United Kingdom
Media

6.072,0
Sir Martin Sorrell (Founder & Executive Chairman),
Scott Spirit (Chief Growth Officer),
Peter Rademaker (CFO)
No
Yes
No
Yes
Orange

Exane BNP Paribas
France
Telecom
29.7

Aurélia Roussel (IR),
Andrei Dragolici (IR),
Louise Racine (IR),
Hong Hai Vuong (IR)
Yes
No
No
No
Accor
Exane BNP Paribas
France

Hotel & Leisure

9.3
Pierre-Loup Etienne (HIR)
No
No
Yes
No
Essity

DNB Markets

Sweden

Consumer Staples

21.3
Magnus Groth (President & CEO)
No
No
No
Yes
Edenred

Exane BNP Paribas
France

IT Services

14.0

Julien Tanguy (CFO), Martine Gadby (HIR)
No
Yes
No
No
Softcat
Numis
United Kingdom
Technology
5.689
Graham Charlton (CFO)
No
No
No
Yes
Akzonobel
Exane BNP Paribas
The Netherlands
Chemicals
19.8
Kenny Chae (HIR),
Mirjam Veenhof (IR)
No
No
No
Yes
Keywords Studios
Numis
United Kingdom
Technology

3.197

Jon Hauck (CFO and Joint Interim CEO),
Joseph Quinn (IR)
No
Yes
Yes
No
Genmab

DNB Markets

Denmark

Health Care

30.6

Andrew Carlsen (VP, Head of IR)
No
No
Yes
No
Swedbank

DNB Markets

Sweden

Financials

25.6
Jon Lidefelt (Head of Baltic Banking)
Yes
No
Yes
No
Learning Technologies Group


Numis
UK
Media
2.185
Jonathan Satchell (CEO),
Neil Elton (CFO)
No
Yes
Yes
No
CVS Group
Numis
UK

Healthcare

2.408

Richard Fairman (CEO),
Ben Jacklin (COO)
No
No
Yes
No
Deliveroo
Numis
UK

Retail

6.922

David Hancock (VP, IR)
No
No
Yes
Yes
ProSieben
Exane BNP Paribas
Germany
Media
3.96
Rainer Beaujean (Chairman of the Executive Board),
Dirk Voigtländer (Head of IR)
No
No
No
Yes
Endesa

Exane BNP Paribas
Spain
Utilities
CEO - Jose Bogas,
CFO - Luca Passa,
Analyst - Juan T Abarca,
HIR - Mar Martinez,
Dep IR - Isabel Permuy
No
No
Yes
No